EXPERIENCE
Feel the Nature of Hakone
From the cherry blossoms and the fresh greenery of spring,
to the Hydrangea and the Daimonji Yaki mountain fire of summer,
then the autumn leaves and Japanese pampas grass of fall, to finally the winter snowscapes.
We offer various activities to enjoy the outdoors of Hakone.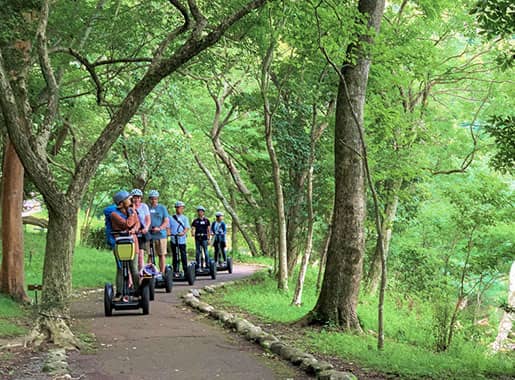 Hakone Ashinoko Segway
From spring to fall, come join us on a Segway tour across the nature-rich lakeside while viewing the Haknone Ashinoko Lake surrounded by the mountains. A guide will come along to provide fascinating information about the land to help you get first-hand experience of the natural environment of Hakone. There are spots like the Kuzuryu-jinja shrine that has been known since ancient times as a place of worship, to the geographical features that was made from 400,000 years of volcanic activity.
Seasons and Hours
End of April to November
Morning Tour: 9:30 AM to 12:00 PM
Afternoon Tour: 1:30 PM to 4:00 PM
Price
¥9,000 / 1 guest
More details
Participants
1 to 6 guests
Entry Conditions
For the safety of our guests, the following conditions shall apply for participation.

Ages 16 to 70 (guests who are under 20 years must have the consent of their parent/guardian).
Must weigh 45 kg or more, but under 118 kg (including weight of clothing and belongings).
A portion of the tour will involve public roads. A valid driver's license (including international driver's license) for standard-sized vehicles, two-wheel motor vehicles, as well as small-sized special-purpose vehicles will be required. Please do not forget to bring your license.
Communication with the instructors will be required, and will be done in Japanese.
Wearing high-heeled or thick-soled (platform) shoes are not allowed.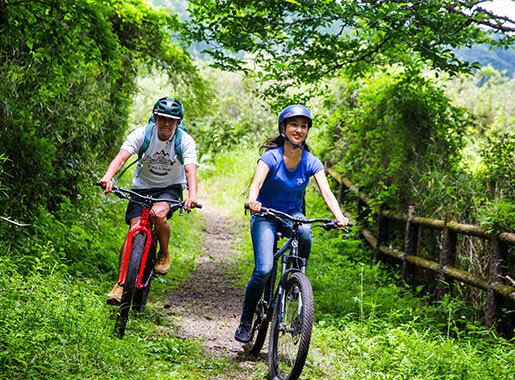 Cycling the Mountains and Forest
A cycling course to enjoy the fantastic and deeply-rich forest. You will cycle past lush-green gardens and climb up and down the gentle slopes along the Hayakawa river. Safe for both children and beginners to enjoy.
| | |
| --- | --- |
| Seasons and Hours | All-Year, tour is approx. 3 hours |
| Price | ¥9,000 / 1 guest |
More details
Number of Participants
1 to 15 guests
Entry Conditions
For the safety of our guests, the following conditions shall apply for participation.

You must be 135 cm tall or more, and weigh under 100 kg. We also have bicycles available for children who are between 120 and 130 cm tall.
Please wear clothing fit for athletic purposes. Sneakers and jeans are allowed, but high-heeled shoes and mini-skirts are not.

Remarks

The tour will not be canceled in case of light rain.
There is a shuttle service from the Hakone Visitor Center, which is the starting point.Visitor Center, which is the
We will provide a complete mountain bike set.
There will have a tea break in the forest.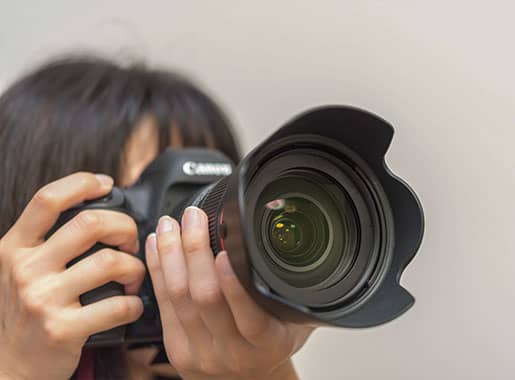 Hakone Location Photograph
We offer arrangements to take memorial photographs of your travels. A photographer from one of Japan's oldest photography studios will join you and take photos at FUFU Hakone or other sightseeing spots.
Seasons and Hours
All-Year, 10:00 AM to 6:00 PM (Hours)
Price
One cut shooting at FUFU Hakone: ¥13,200
Snapshot shooting starts from ¥32,000/1 hour, from 30 cuts
More details
Notice
[One shooting]
Shooting Place: 1 shooting at FUFU Hakone
Delivering: 1 photo (203 x 254mm)
*Please ask for the price if you want additional shooting, prints, etc.

[Snapshot shooting]
Shooting Place: We will shoot at Fufu Hakone or your favorite place in Hakone town.
Duration: 1 hour
Delivering: jpg data
* For shooting outside FUFU Hakone, please gather at the shooting location.Entrance fees might be required depending on the spot.
Reservation and Cancellation
Reservation
Booking is accepted three months in advance.
Booking needs to be confirmed three days prior to the date of the tour.
The booking is accepted at the General Reservation Center or FUFU Kyoto.
FUFU Kyoto Designated Staff will respond to inquiries and provide details of the reservation.
The booking may not be accepted due to weather, etc. The schedule may be changed according to the physical conditions of customers or the weather.
The final decision on whether or not the tour will be held is determined at 6:00 PM of the day before departure. No cancellation fee will be charged in case of bad weather, etc.
Cancellation
Cancellation fee will be charged 6 days prior to the date of tour

| | |
| --- | --- |
| 6 days – 3 days | 50% of total price |
| 2 days – 1 day | 90% of total price |
| On the day | 100% of total price |